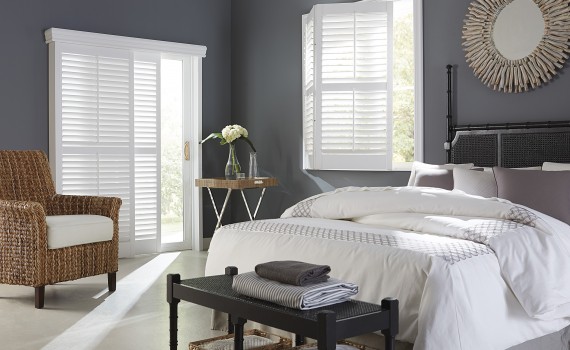 For those who are interested in purchasing shutters for their home, there are so many different choices that it may seem overwhelming at first. However, the good news is that it is fairly easy to choose the right ones for your needs.
When it comes to choosing the best window treatments for Northern California residents, there are a number of factors to consider starting with the weather conditions. Excessive rain and humidity can affect blinds over the long term depending on the material that is used. Plus, the shutters will need UV protection as well since they are exposed to sunlight. The ultraviolet rays of the sun can have a considerable effect on shutters as it can damage the material over time.
Selecting Louvers
For interior shutters, you can choose between fixed and movable louvers which are the slats or horizontal pieces that are part of the shutters. There are several different sizes and styles of louvers. They can be found on plantation shutters, wood shutters, and more. Most people select the movable type to allow more or less light into their home. A tilt rod connects to the louvers which let the slats or shutters open and close. Most tilt rods are located on either side of the louvers, although some go down the middle.
The size of the louver will depend on the size of the window you want to cover. Also, the only brand that carries the invisible tilt rod is Norman, so if that is what you want for your home, then the Norman brand is the one for you. 
Pros and Cons of Different Material
Wood: The traditional type of shutter material.
PVC: You can find wood fibers that are blended with PVC or all-PVC shutter materials.
Vinyl: Strong, durable and very popular around the country and in particular California.
MDF: Standing for Medium Density Fiberboard, this is also a very strong, resilient material.
Wood is a very popular material for shutters in that they can be fitted to different sizes. Although they are popular window treatments in San Francisco, they can warp in the constant humidity if not properly maintained. PVC is a type of plastic that imitates wood and the high quality ones are both durable and lightweight.
Vinyl shutters are also quite nice if you purchase the higher quality brands, but MDF is a very strong material that is becoming quite popular thanks to its overall durability.
Prevent Drooping
Also called tensioning, this is the type of control you want for your shutters so that they don't slip over time. There are certain types of shutters that may not need this type of tension control, but for the most part you want it because it helps prevent drooping as the shutters start to age. By having this type of control, you can make small adjustments over time that can keep the proper tension on the shutters so that they remain straight.
You are now ready to shop for the best window treatments for Northern California. Just remember to choose the shutters that best suit your home in terms of look, style, and resilience to the elements.
image credits: Graber Gallery