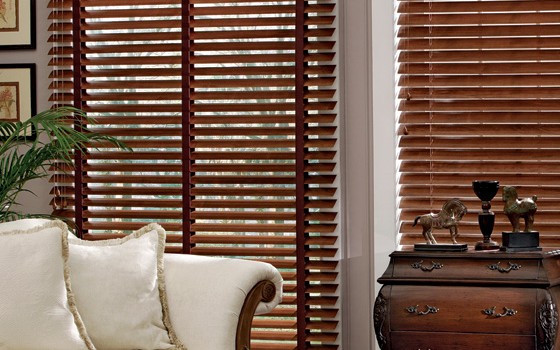 Faux Wood Blinds VS Hardwood Blinds
It can be difficult at first to tell the difference between faux wood blinds and hardwood or traditional wood blinds.  Faux wood is made to look as much like natural wood as possible by using materials that are more accessible and less expensive.
You can find high quality blinds of both types from noted manufacturers such as Graber and Norman. In addition, the blinds come in many different colors, sizes of louvers, textures, and control systems so that you can find the one that best suits your needs and fits the interior décor of your home.
There are differences between each type of blind that is important to know before you make your purchase.
Faux wood Blinds
Inexpensive: Arguably the most notable difference is in comparing the cost of faux wood to traditional wood blinds. For those who are looking to save money, this may be the type of blind for you.
Durable: This type of product is manufactured to be quite durable and long lasting. The blinds are also designed to be easy to clean and maintain which adds to their durability.
Cordless: Cordless blinds offer the unique advantage of being child-safe which makes them highly suitable for families with young children. 
Large Shutter Style Slats: These are the large slats that mimic wood shutters to such a degree that it may be difficult to tell the difference. In fact, most faux wood blinds are so similar to their natural counterparts that they make the perfect addition to your home.
Traditional Wood Blinds
Light: One of the most telling advantages is the lightweight wood that is used to make the blinds. This means that large blinds are available that can cover windows without sagging in the middle which can be a real issue with some other types of blinds.
Look & Feel: Although faux wood blinds are very well made, nothing beats the actually look of real wood blinds. They provide the authentic look and feel that so many people want in their home. This includes the wood staining that is provided by the manufacturer which gives an appearance unlike any other type of blind.
Variety of Colors & Stains: You can have your wood blinds stained or painted with over 50 different colors that will fit your home décor. There are also complimentary stains that you can use to help improve the overall appearance of the blinds.
In addition, wood blinds also offer the option of going cordless which is especially important children's and pet's safety. This is a great option for families that may help avoid injury or worse. Plus, you can also order blinds with decorative tassels that provide a unique style.
When it comes to choosing between faux wood blinds and traditional wood blinds, there are plenty of positive options no matter which one you choose. There are also effective window treatments for San Francisco and Bay Area residents can select to help improve the overall appearance of their home. There, you can choose between faux wood and wood blinds to find the one that best suits your particular needs.